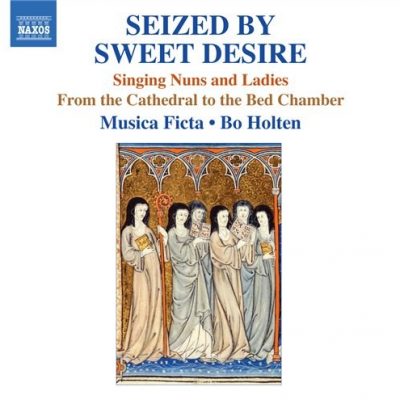 Seized by Sweet Desire
Naxos 8.572265 · 2009
Musica Ficta
Amy Westbø, Ann-Christine Wesser Ingels, Malene Nordtorp, Susannah Carlsson – soprano vocals
Elisabeth Ørsnes, Helen Rossil, Linnéa Lomholt, Rie Koch – alto vocals
Bo Holten, Conductor, Liner notes
Viggo Mangor, producer, Engineer, Edited By
Recorded at St Paul's Church, Copenhagen, Denmark, from 1st to 3rd March, 2005.
Until recently the rôle of women as composers and performers of both sacred and secular music during the Middle Ages has been seriously underestimated. This disc, sung by the all-female group Musica Ficta, reveals how well suited to women's voices are music from Notre-Dame in Paris and the songs of many trouvères (the northern counterparts of the troubadours of Languedoc). The latter songs, for instance, often feature female protagonists and present different perspectives on love and life to those by their male counterparts.